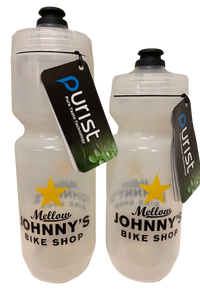 MJ's Classic Bottles by Purist
Our classic logo on 22 and 26 ounce Purist water bottles. You pick the size you like. Simple. 
Purist technology shields the inside of the bottle from any bad taste, mold, or staining. Nothing sticks, so your bottle stays clean and your drink always tastes pure.
---
We Also Recommend
Unisex Tees
| | | | | | | |
| --- | --- | --- | --- | --- | --- | --- |
|  SIZE | XS | SM | MED | LRG | XL | 2XL |
| CHEST (IN) | 31-34 | 34-37 | 38-41 | 42-45 | 46-49 | 50-53 |
Women's Tees
| | | | | |
| --- | --- | --- | --- | --- |
|  SIZE | SM | MED | LRG | XL |
| FIT SIZE | 2-4 | 6-8 | 8-10 | 10-14 |
Men's Jerseys
| | | | | | | |
| --- | --- | --- | --- | --- | --- | --- |
| SIZE | SM | MED | LRG | XL | 2XL | 3XL |
| CHEST (IN) | 37-38 | 38-39 | 40-42 | 43-44 | 45-46 | 47-48 |
| CHEST (CM) | 94-96.5 | 96.5-99 | 101-106 | 109-112 | 114-117 | 119-122 |
Men's Bibs
| | | | | | |
| --- | --- | --- | --- | --- | --- |
|  SIZE | SM | MED | LRG | XL | 2XL |
| WAIST (IN) | 25-28 | 28-32 | 32-36 | 36-40 | 40-44 |
| WAIST (CM) | 63.5-71 | 71-81 | 81-91 | 91-101.5 | 101.5-112 |
Women's Jerseys
| | | | | | |
| --- | --- | --- | --- | --- | --- |
|  SIZE | XS | SM | MED | LRG | XL |
| CHEST (IN) | 32 | 34 | 36 | 38 | 40 |
| CHEST (CM) | 81 | 86 | 91 | 96.5 | 101.5 |
Women's Bibs
| | | | | | |
| --- | --- | --- | --- | --- | --- |
|  SIZE | XS | SM | MED | LRG | XL |
| WAIST (IN) | 23-25 | 25-27 | 27-29 | 29-31 | 31-33 |
| WAIST (CM) | 58-63.5 | 63.5-68.5 | 68.5-73.5 | 73.5-79 | 79-84 |
| HIP (IN) | 33-34 | 35-36 | 37-38 | 39-40 | 40-41 |
| HIP (CM) | 84-86 | 88-92.5 | 93-96.5 | 99-101.5 | 101.5-105 |
Men's Shoes
| | | | | | | | | | | |
| --- | --- | --- | --- | --- | --- | --- | --- | --- | --- | --- |
| EURO | 36 | 37 | 37.5 | 38 | 38.5 | 39 | 39.5 | 40 | 40.5 | 41 |
| US | 4 | 4 | 4.5 | 5 | 5 | 5.5 | 6 | 6.5 | 7 | 7.5 |
| | | | | | | | | | | |
| --- | --- | --- | --- | --- | --- | --- | --- | --- | --- | --- |
| EURO | 41.5 | 42 | 42.5 | 43 | 43.5 | 44 | 44.5 | 45 | 45.5 | 46 |
| US | 8 | 8 | 8.5 | 9 | 9 | 9.5 | 10 | 10.5 | 10.5 | 11 |
| | | | | | | | | |
| --- | --- | --- | --- | --- | --- | --- | --- | --- |
| EURO | 46.5 | 47 | 47.5 | 48 | 49 | 50 | 51 | 52 |
| US | 11 | 11.5 | 11.5 | 12 | 13 | 14 | 15 | 16 |
Women's Shoes
| | | | | | | | | | | |
| --- | --- | --- | --- | --- | --- | --- | --- | --- | --- | --- |
| EURO | 35 | 36 | 37 | 37.5 | 38 | 38.5 | 39 | 40 | 40.5 | 41 |
| US | 4.5 | 5 | 5.5 | 6 | 6.5 | 7 | 7.5 | 8 | 8.5 | 8.5 |
| | | | | | | |
| --- | --- | --- | --- | --- | --- | --- |
| EURO | 41.5 | 42 | 42.5 | 43 | 43.5 | 44 |
| US | 9 | 9 | 9.5 | 10 | 10.5 | 11 |