---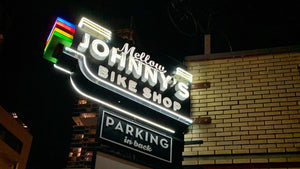 Welcome to Mellow Johnny's Bike Shop!
Lance Armstrong's Mellow Johnny's Bike Shop (aka MJ's) opened in 2008 in Austin, TX's historic warehouse district. Our urban setting, in the center of Austin's burgeoning bike lane network, reflects our commitment to and belief in cycling as viable transportation and riding for fun and fitness.
We want to be your bike shop. With gear for every type of rider, from kids just getting started to experienced cyclists of all stripes, our entire inventory was curated with one goal: to make you love riding your bike.
Here in our online store you can shop our selection of MJ's-branded gear, including cycling apparel and casual wear, and select accessories from some of our favorite brands.
We ship globally. And domestic ground shipping is always free on orders of $100 US or more. Have a question? email us at sales@mellowjohnnys.com and we'll get back to you as soon as possible (typically in a day).